I think I've told you before that we allow the kids to choose what they would like to eat for dinner on their birthdays. Yesterday was Teach's birthday, but I knew weeks ago what she would choose. Her very favorite meal is what we call a Hawaiian Sandwich.

I first heard this recipe about the time she was born. I was teaching writing classes at Columbia College. One of the assignments was to write a process paper and most people chose to give me a recipe story. I had never heard of King's Hawaiian Bread at the time, but I was excited to try this amazingly different sandwich. We have modified the recipe slightly over the years to suit our own tastes. We also have to make two of them now just to feed everyone although you could easily feed eight people with one.


Last year was the first year I had trouble finding the bread. I went to our local grocery store on the morning of Teach's birthday, but could only find the roll version of the bread. After the third grocery store, I started to panic. I had already purchased all the meat, cheese, and veggies, so I didn't want to change the menu. I finally got on the King Hawaiian website and called the company. They were so nice! They had one of their service people call around the valley and locate the bread for me. Then they APOLOGIZED for the inconvenience and sent me a bunch of free coupons!

This year I got smart and made phone calls first. I easily located it at the second place. I highly recommend giving this sandwich a try. Even if you are not an avocado fan, the spread really is the best part. I have kids that won't even give an avocado a second look unless it's in this sandwich. Enjoy!
Hawaiian Sandwich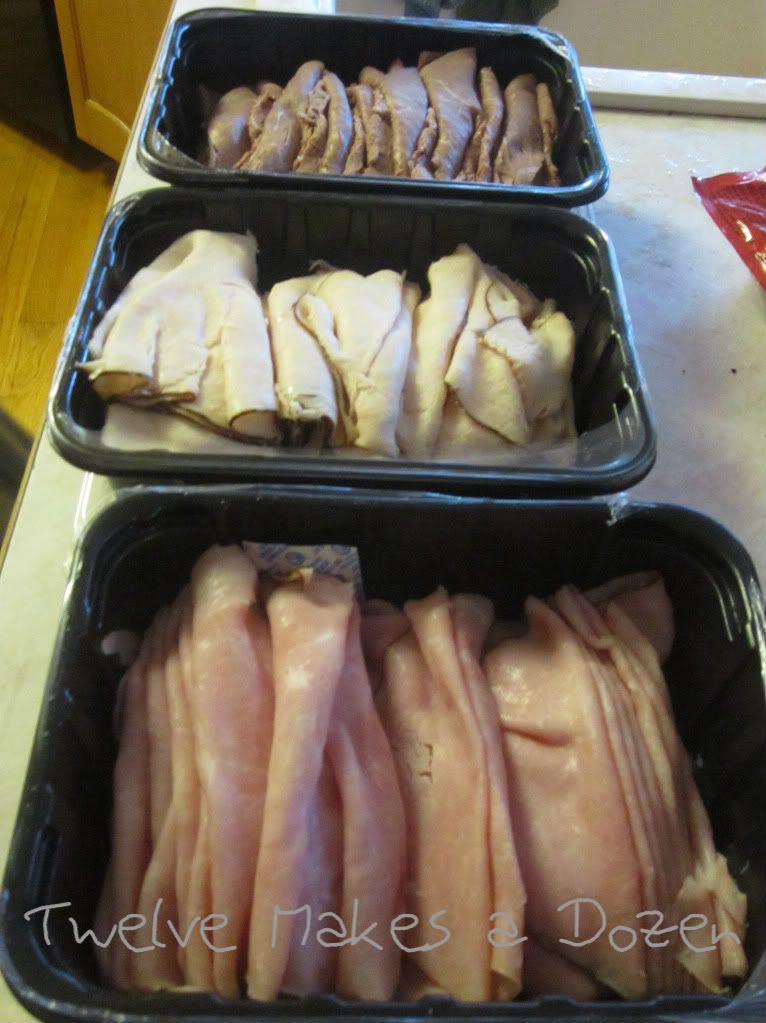 1 round loaf of Hawaiian Sandwich bread
½ pound thinly sliced turkey
½ pound thinly sliced roast beef
½ pound thinly sliced ham
½ pound sliced provolone
½ pound sliced cheddar cheese
1 ripe tomato, sliced
2 avocados
½ cup Miracle Whip
lettuce leaves
cracked black pepper
mustard (if desired)

Tip the sandwich roll on its side and slice it into four slices like you would a bagel.
Turn your oven on to broil. Place the bottom of the bread directly on the rack and toast for approximately 45 seconds. Watch it carefully so it doesn't burn. It doesn't take long.

Remove from the oven and cover with cheddar and ham slices.
Toast the second layer of bread the same way, then cover with the roast beef and a little mustard.
Cover with a layer of provolone cheese.
Toast the third layer of bread. Cover it with turkey, (a little more cheese if you are a cheese lover) and the lettuce and tomatoes.
Add a little black pepper to the tomatoes.
Peel and smash the avocados and then stir them into the Miracle Whip.
Cover the bottom of the top layer of bread with the avocado mixture.
When the sandwich is totally assembled, place it on a cutting board and cut into wedges to serve. Serve immediately.
My sweetie loves the avocado mixture so much he likes to put a little on every layer. The nicest part of this sandwich is that you can change it a little here and a little there until it is perfect for your family.
**Editor's Note: While I was adding photos to the post photobucket has crashed. I will upload more step-by-step photos in an edit tomorrow. If you feel unsure about the process please return later to view more photos.
Thanks for your patience. All thoughts and opinions on this recipe are Sandy's own. She is not being paid or reimbursed by any company mentioned above in any way.