I've told you before that I love basketball! It's one of my favorite sports to play and I love watching it too. I've spent many hours coaching half a dozen Jr. Jazz teams over the years. My favorite age to coach is the 3rd and 4th grade girls. They are amazingly teachable at that age and they haven't had much time to develop an ego problem.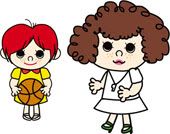 ValueClips Clip Art
When Teach and the Drama Queen were that age I coached my first team of girls. Actually Teach was only a second grader, but because I was willing to keep her, they let her play with the older girls. We had a lot of raw talent and several girls who could really handle the ball. Our season went well and the girls just continued to get better and better. We didn't lose a single game! I had never considered placing this team in the county tournament, but these girls were so good and so excited about the opportunity that I filled out the paperwork. We continued to practice and prepare. My best little point guard tended to get nervous when the pressure was on and I knew it would be difficult to get her to relax.
Our first game was terrifying! Their girls were huge and physical. Their parents and older brothers were intimidating and the officials were helping the other team win. I'm sure they just didn't want to get beat up on their way back to their cars when the game was over, but their fears and assistance didn't stop my team from wanting to win. We stepped into the huddle at halftime. "The refs won't call anything on them!" one girl complained. "Yeah," whined another, "They are hacking us all over the place." I looked around the circle at their ten anxious faces. "We can quit…" I suggested. They looked at one another in disbelief. What was their coach saying? I watched the determination enter into each face and they began to encourage each other. "Come on…we can do it…let's go!"
We won that game by about 10 points and it catapulted us into the championship game. We were nervous and understandably so. We had never lost a game but neither had the opposing team. My girls played their hearts out! With 12 seconds to play in the game we were down by one point. My little point guard was nervous and about ready to fall apart. "I can't do it…she muttered." I took her by the shoulders and forced her to look me in the eye. "Steph, you are better than they are!" I assured her. "You are going to dribble that ball down the court, make the last shot for us and win the game!" She looked at me doubtfully. "You can do it!" I said one last time and sent her back out on the floor.
She took the inbound pass and started dribbling through the press. She hit the jump shot with 2 seconds to play. The other team didn't even have time to get the ball back down the court. I was so proud of those girls! Many of them went on to play high school ball. Steph led our high school team as the point guard when they won the state championship several years ago. Coaching really can have its rewards.