So we met the first week in June of 1982. I survived the Survey Chem class with the firm intention of never taking another chemistry class in my life! But my job required me to correct homework and tests for the various chemistry classes, so chemistry became part of my routine.
I was an English Major, so sometimes correcting homework was a bit beyond my abilities especially for the Organic Chem class. This nice lab assistant was the perfect person to ask for help! Not only was he in the Organic Chem class, but he could get paid for his efforts in my behalf. So we started spending many afternoons together, laughing, working, and getting to know each other a little better.
I must confess that I was a big flirt and it never occurred to me to be anything different around him. It was obvious that he didn't have much experience with girls and most of my flirting just seemed to frustrate him. After several months of working together I finally ran into him one night at the library. I was with my little sister and he was just hanging out and doing homework. We started teasing him and eventually I stole his class ring. That was really the first time I looked at him as being a romantic conquest.
Several evenings later I was working in the chemistry office. The Organic class was having a test and I had several guy friends in there sweating it out. After a couple of hours, they were finally dismissed. What a ragged bunch! They had clearly used every bit of brain power they collectively possessed. These were some of the smartest guys in the school and they all congregated in the chemistry office. I was the only girl among them.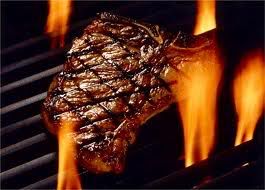 My lab assistant sprawled in the professor's chair, "I could sure use a steak!" he complained to no one in particular. Then, when he got no response, he said, "Anyone want to come?" "I'll come," I said. We looked around at the rest of the guys. Each had his own silly little smirk on his face. "I have some stuff I need to do," said one. "Have fun!" commented another. Somehow I thought I had been set up, but I wasn't going to walk away without a good steak dinner. Besides, this was probably the only way I was ever going to get this super-shy guy to ask me out. "OK, let's go," I said.
He didn't have a car, so naturally I had to drive. We headed to the only steakhouse in town, a tiny café I had never been to before. I made up my mind then and there that this was a date and we were both going to act like it. When I pulled into the parking lot, he got out and headed to the door. I just sat there and waited. It took him a few minutes to realize that I was still in the car. I'm pretty sure that's when he figured out that we were not just two friends grabbing a bite to eat together.
He came back and opened my door. We enjoyed our meal and talked about things that were a little more personal than homework and test scores. Then I took him to my favorite place in the whole world…my grandparents' house.
They were a little nervous about me bringing a new guy around, but they took it in stride. Although my grandma took me in the other room and said loudly enough for him to hear, "Now don't go getting serious with this one!" I was only 17 and college boys were definitely trouble. I can't remember who suggested that we attend the dance that night, but somehow we ended up there. Several slow dances later and we were both convinced that our first date wouldn't be our last…come back tomorrow and I'll tell you about our first kiss.